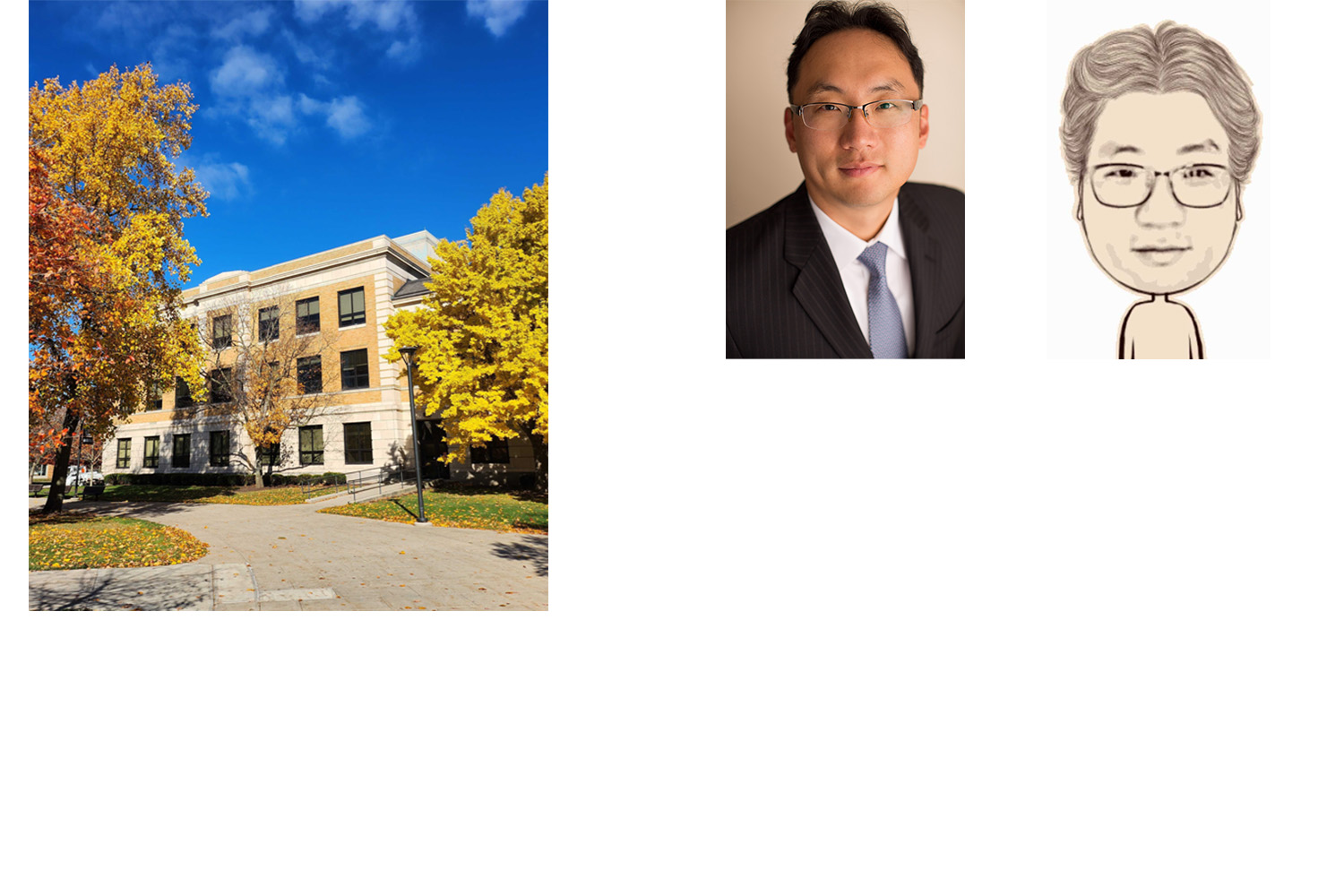 Dr. Jong Kwan "Jake" Lee

Visualization

Computer Vision

Pattern Recognition
Fulton Associate Professor & Department Chair
221 Hayes Hall/Department of Compupter Science, Bowling Green State University, Bowling Green, OH 43403
Meet Dr. Jong Kwan "Jake" Lee
I am currently the Fulton Associate Professor and the Chair in the Department of Computer Science at the Bowling Green State University. I received a Bacholr of Engineering degree from Electronics and Electrical Engineering Department at Kyungpook National University Korea in 2001. I received my Master of Science and Doctor of Philosophy degrees in Computer Science from University of Alabama in Huntsville, in 2003 and 2008, respectively.
I teach both undergraduate and graduate level courses, generally up to 2 or 3 courses per semester. I enjoy teaching introductory level programming courses as well as the upper level graphics and visualization courses.
My research interests cover a range of areas, including visualization, pattern recognition/computer vision, high performance computing, computer graphics, and multimedia. Currently, I am working on deep learning-based feature segmentation and change visualization in solar physics applications.
In the department, I served on various roles (e.g., Undergraduate Coordinator, Intenship Coordiantor, various department committee member). For the college and university, I served on A&S Diversity Committee, Undergraduate Council, Faculty Senate, and the committee to create MS & PhD in Data Science. I am currently serving as a member of Asian Studies Advisory Committee.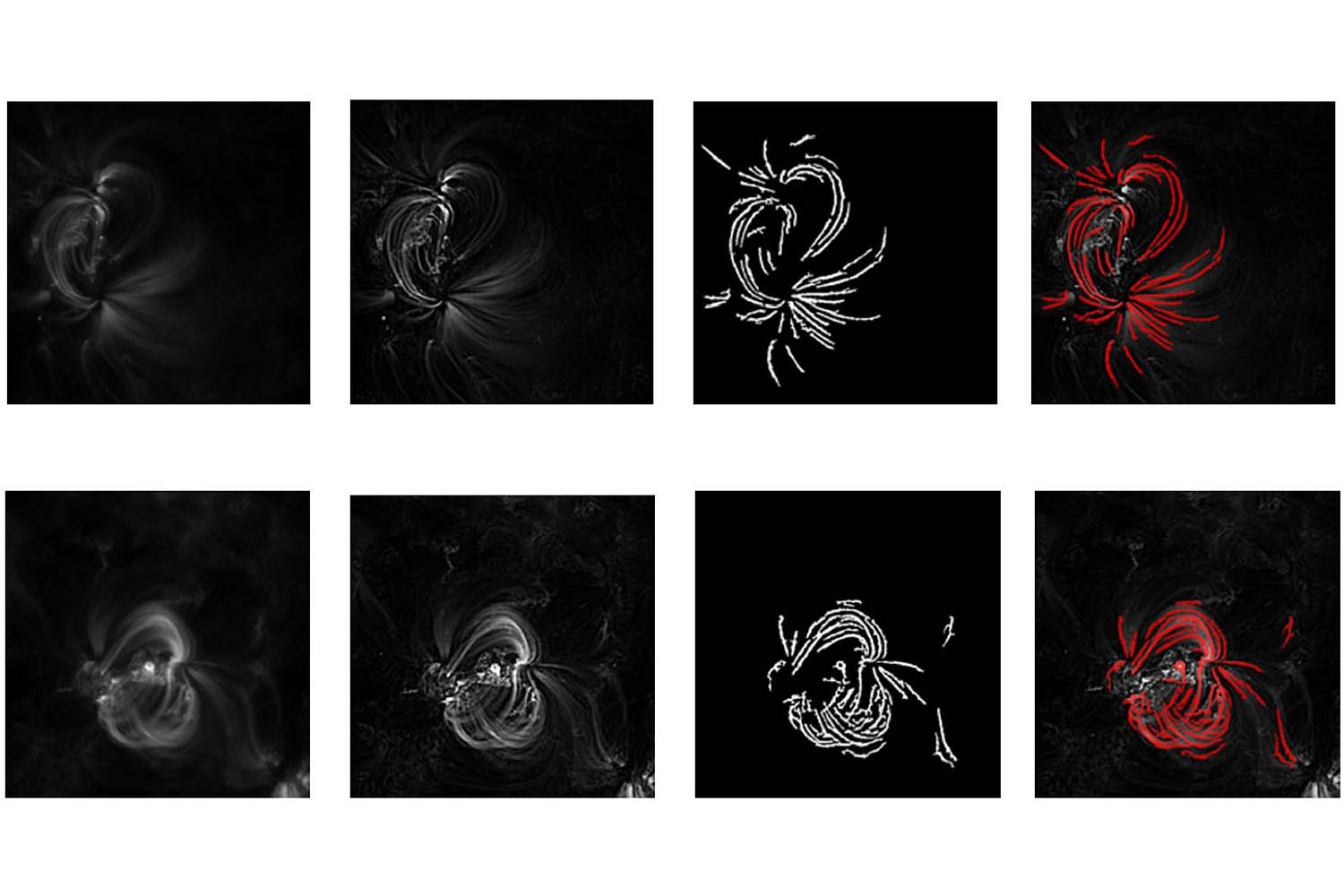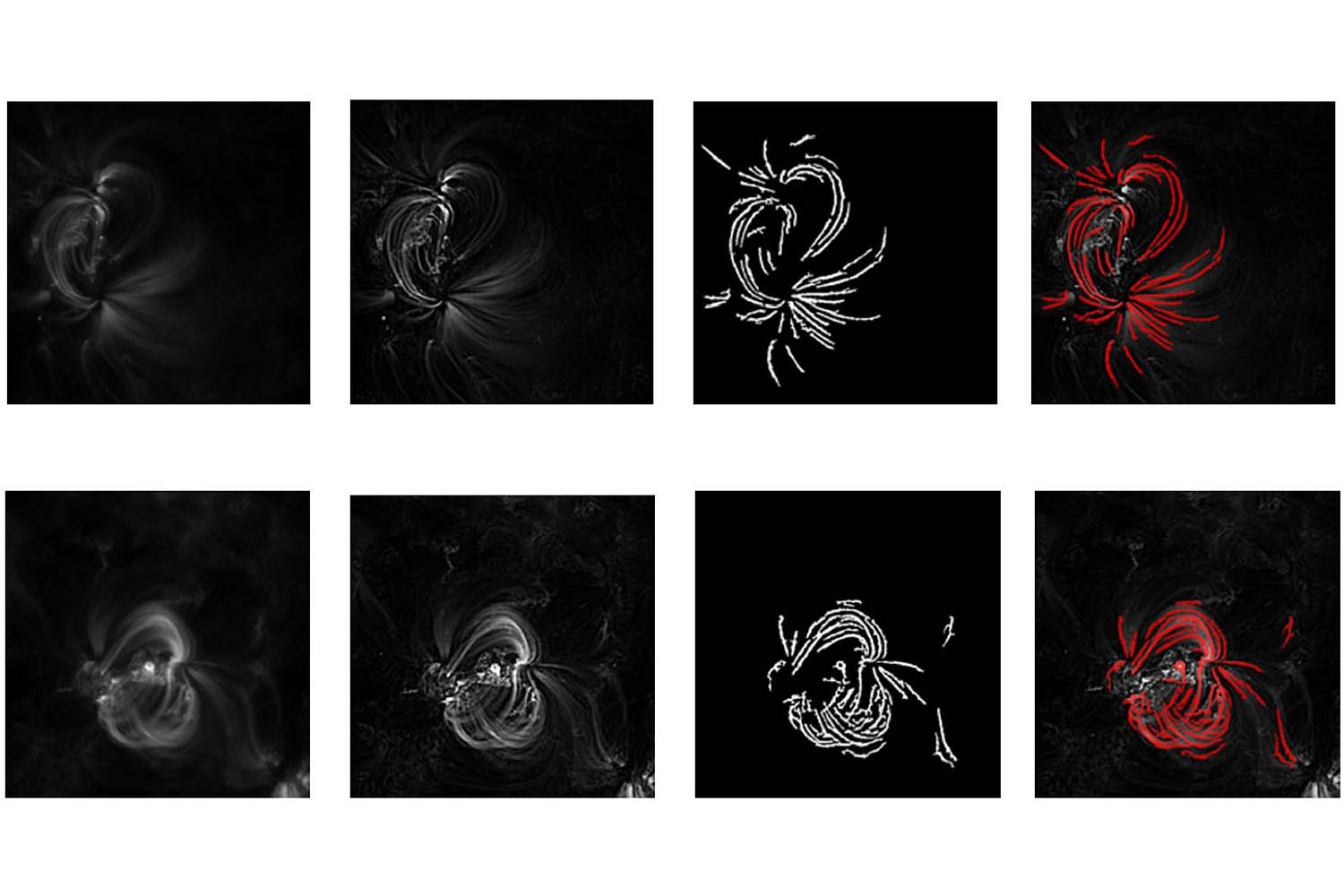 Current/Near Teaching
CS/DATA 6260 Visualization (Fall 2023)
Teaching Experience
Bowling Green State University, Ohio (Associate/Assistant Professor)
CS 1000: Understanding Computers
CS 2010: Programming Fundamentals
CS 2020: Intermediate Programming
CS 2170: Computer Organization
CS 2900: Career Preparation in Computing Fields
CS 3010: Information Management Technologies
CS 3270: Operating Systems and Networks
CS 3800: Special Topics in CS: Multimedia
CS 4080: Advanced Operating System
CS 4170: Intro. Parallel Computing
CS 4200: Artificial Intelligence Methods
CS 4250: Computer Graphics
CS 5080: Operating Systems
CS 5170: Intro. Parallel Computing
CS 5200: Artificial Intelligence Methods
CS 5250: Computer Graphics
CS 6070: Architecture of Computers
CS 6200: Adv. Topics in Artificial Intell. [Pattern Recognition]
CS 6250: Advanced Computer Graphics
CS 6260: Visualization
CS 6800: Seminar in CS: Visualization and HPC
Bowling Green State University, Ohio (Visiting Assistant Professor)
CS 201: Intro. to Object-Oriented Programming
CS 425: Computer Graphics
CS 525: Computer Graphics
CS 6110: Automata and Computability
CS 680: Seminar in CS: Volume Visualization
University of Alabama in Huntsville, Alabama (Graduate Teaching Assistant)
CS 102: Intro. Programming Course
Research Interests
Scientific and Information Visualization
Pattern Recognition
Computer Vision
Machine Learning
High-performance Computing
Computer Graphics
Current Projects
Machine Learning-based Computer Vision/Pattern Recognition: Solar Coronal Loop and Feature Analysis
Visualization: (1) Solar Feature Visualization; (2) COVID-19 Data Visualization
Research Assistant
All research assistant positions have been filled.
Any undergraduate/graduate students who want to work on a project in machine learning, computer vision/pattern recognition, visualization, etc. are welcome to contact me.
Publications
Shadi Moradi, Jong Kwan Lee, and Qing Tian, "Exploration of U-Net in Automated Solar Coronal Loop Segmentation," Proc., 29th International Conference in Central Europe on Computer Graphics, Visualization, and Computer Vision (WSCG 2021), Plzen, Czech Republic, May 2021, pp. 227-235.
Sungho Cho, J. Lucy Lee, June Won, and Jong Kwan Lee, "Empirical Investigation of Sport Trademark Dilution by Using Contingent Valuation Method," Journal of Sport Management, Vol. 34 (3), May 2020, pp. 189-200.
Zhe Qi and Jong Kwan Lee, "Automated Object Tracking in Sterile Pharmacy Compounding," Proc., 27th International Conference in Central Europe on Computer Graphics, Visualization, and Computer Vision (WSCG 2019), Plzen, Czech Republic, May 2019, pp. 137-142.
Abbas Shakiba and Jong Kwan Lee, "Web-VizLib: Web-Tool for Visualizing Library Data," Journal of Industrial Information Technology and Application, Vol. 2, No. 3, Sep. 2018, pp. 145-150.
Hussein S. Al-Olimat, Mansoor Alam, Robert Green, and Jong Kwan Lee, "Cloudlet Scheduling with Particle Swarm Optimization," Proc., 2015 The 1st International Conference on Communication Systems and Computing Application Science, Jeju Island, South Korea, May 16-17, 2015, Paper ID: 13.
Samraddhi Shastri, Ray Kresman, and Jong Kwan Lee, "An Improved Algorithm for Querying Encrypted Data in the Cloud," Proc., 2015 The 1st International Conference on Communication Systems and Computing Application Science, Jeju Island, South Korea, May 16-17, 2015, Paper ID: 14.
Glen Hordemann, Jong Kwan Lee, and Andries H. Smith, "Accelerated SQLite Database using GPUs," Proc., 22nd International Conference in Central Europe on Computer Graphics, Visualization, and Computer Vision (WSCG 2014), Plzen, Czech Republic, June 2014, pp. 247-256.
Gilmer A. Gary, Qiang Hu, Jong Kwan Lee, and Markus J. Aschwanden, "Determining the 3D Structure of the Corona Using Vertical Height Constraints on Observed Active Region Loops," Solar Physics, Vol. 289 (10), 2014, pp. 3703-3721.
Gilmer A. Gary, Qiang Hu, and Jong Kwan Lee, "A Rapid, Manual Method to Map Coronal-Loop Structures of an Active Region Using Cubic Bezier Curves and Its Applications to Misalignment Angle Analysis," Solar Physics, Vol. 289 (3), 2014, pp. 847-865.
Yilin Gu, Andries H. Smith, Jong Kwan Lee, Xinyue Ye, and Soo K. Kim, "Effective Visualization Tool for Job Searching," Proc., 2013 International Conference on Modeling, Simulation and Visualization Methods (MSV'13), Las Vegas, July 2013, pp. 80-86.
Andries H. Smith, Jong Kwan Lee, Hao Hu, and Eric S. Mandell, "Hough Transform-based Technique for Automated Carbon Nanocone Segmentation," Proc., 21st International Conference in Central Europe on Computer Graphics, Visualization, and Computer Vision (WSCG 2013), Plzen, Czech Republic, June 2013, pp. 19-28.
Tracey Raybourn, Jong Kwan Lee, and Ray Kresman, "On Privacy Preserving Encrypted Data Stores," Lecture Notes in Electrical Engineering 240, Multimedia and Ubiquitous Engineering (MUE 2013), Vol. I, 2013, pp. 219-226.
Jong Kwan Lee and Timothy S. Newman, "Exploring GPU- and Cluster-based Improvements for Over-sampled Volume Ray Casting Opacity Correction," International Journal of Image and Graphics, Vol. 12, No. 4, 2012, pp. 125000250-1-125000250-26.
Luke West and Jong Kwan Lee, "Performance Comparison Between Cg-based and CUDA-based Matrix Multiplications," Proc., 2012 International Conference on Parallel and Distributed Processing Techniques and Applications (PDPTA'12), Las Vegas, July 2012, pp. 808-812.
Ronald Ngatuni, Jong Kwan Lee, Luke West, and Eric S. Mandell, "New Hough Transform-based Algorithm for Detecting L-shaped Linear Structures," Proc., 2012 International Conference on Image Processing, Computer Vision, and Pattern Recognition (IPCV'12), Las Vegas, July 2012, pp. 641-646.
Zachary D. Taylor and Jong Kwan Lee, "On RHT-based Ellipsoid Recovery Method," Proc., 16th International Conference on Transformative Science, Engineering, and Business Innovation (SDPS 2011) , Jeju, South Korea, June 2011, Paper ID 166, pp. 1-6.
Jong Kwan Lee and Woon Khang Tang, "Snake-based Technique for Automated Coronal Loop Segmentation," Proc., 19th International Conference in Central Europe on Computer Graphics, Visualization, and Computer Vision (WSCG 2011), Plzen, Czech Republic, 2011, pp. 33-40.
Brian A. Wood, Jong Kwan Lee, Manil Maskey, and Timothy S. Newman, "Higher Order Approximation Normals and Their Impact on Isosurface Shading Accuracy," Machine Graphics and Vision, Vol. 19, No. 2, 2010, pp. 201-221.
Jong Kwan Lee and Mark L. Randles, "Efficient Ellipse Detection using GPU-based Linear Least Squares-based Randomized Hough Transform," Proc., 2010 International Conference on Image Processing, Computer Vision, and Pattern Recognition (IPCV'10), Las Vegas, July 2010, pp. 714-719.
Jong Kwan Lee and G. Allen Gary, "Recovery of 3D Solar Magnetic Field Model Parameter using Image Structure Matching," Proc., 4th International Conference on Computer Vision/Computer Graphics Collaboration Techniques, MIRAGE 2009, France, May 2009, pp. 172-181.
Jong Kwan Lee, Brian A. Wood, and Timothy S. Newman, "Very Fast Ellipse Detection using GPU-based RHT," Proc., 19th International Conference on Pattern Recognition, Tampa, Florida, December 2008, pp. 1-4.
Cuilan Wang, Timothy S. Newman, and Jong Kwan Lee, "On Accuracy of Marching Isosurfacing Methods," Proc., IEEE/EG International Symposium on Volume and Point-based Graphics (VG'08), Los Angeles, CA, August 2008, pp. 49-56.
Jong Kwan Lee and Timothy S. Newman, "Acceleration of Opacity Correction Mechanisms for Over-sampled Volume Ray Casting," Proc., Eurographics Symposium on Parallel Graphics and Visualization (EGPGV '08), Crete, Greece, April 2008, pp. 17-24.
Markus J. Aschwanden, Jong Kwan Lee, G. Allen Gary, Michael Smith, and Bernd Inhester, "Comparison of Five Numerical Codes for Automated Tracing of Coronal Loops," Solar Physics, Vol. 248, No. 2, 2008, pp. 359-377.
Jong Kwan Lee, Manil Maskey, Timothy S. Newman, Brian A. Wood, and Cuilan Wang, "Evaluation of High Order Approximation Normals for Marching Cubes," Proc., IEEE SoutheastCon 2008, Huntsville, AL, April 2008, pp. 593-598.
Jong Kwan Lee, Timothy S. Newman, and Cuilan Wang, "Voxel Averaging-based Opacity Correction for Oversampled Volume Ray Casting," Proc., International Conference on Modeling, Simulation, and Visualization Methods '07, Las Vegas, June 2007, pp. 295-301.
Jong Kwan Lee, "More Accurate Correction of Opacity Composition Artifacts in Oversampled Volume Ray Casting," Abstract Book, ACM Mid-Southeast Conference, Gatlinburg, TN, November 2007 (abstract)
Jong Kwan Lee and Timothy S. Newman, "New Method for Opacity Correction in Oversampled Volume Ray Casting," Journal of WSCG, Vol. 25, 2007, pp. 1-8.
Jong Kwan Lee, Timothy S. Newman, and G. Allen Gary, "Oriented Connectivity-based Method for Segmenting Solar Loops," Pattern Recognition, Vol. 39, 2006, pp. 246-259.
Jong Kwan Lee, Timothy S. Newman, and G. Allen Gary, "Dynamic Aperature-based Solar Loop Segmentation," Proc., 7th IEEE Southwest Symposium on Image Analysis and Interpretation, Denver, March 2006, pp. 91-94.
Jong Kwan Lee, Timothy S. Newman, and G. Allen Gary, "Automated Detection of Solar Loops by the Oriented Connectivity Method," Proc., 17th International Conference on Pattern Recognition, Cambridge, UK, Aug. 2004, pp. IV315-IV318.
Jong Kwan Lee, G. Allen Gary, and Timothy S. Newman, "Automated Coronal Loop Identification using Digital Image Processing Techniques II," Solar Image Processing II Workshop, Annapolis, MD, November 2004 (abstract)
Jong Kwan Lee, G. Allen Gary, and Timothy S. Newman, "Automated Coronal Loop Identification using Digital Image Processing Techniques," 34th Meeting of AAS Solar Physics Division, Laurel, MD, May 2003 (abstract)
Advisor
Graduate Students
Varun Palakodeti, M.S., Fall 2022 - Current
Suman Astani, M.S. student, (1.5 semester in Fall 2022 and Spring 2023)
Prabal Dhauhbadel, M.S. in CS (co-advising), Spring 2022
Sidhant Mahat, M.S. student, (one semester in Spring 2022)
Pramiti Barua, M.S. student, (one semester in Fall 2021)
Grant Ferrell, M.S. in CS (co-advising), Fall 2021
Shadi Moradi, M.S. in CS, 2020 Spring
Haylee Liska, M.S. in CS, 2019 Spring
Ben Forster, M.S. in CS, 2018 Spring
Ali Shakiba, M.S. in CS, 2017 Spring
Somphong Khanthabouth, M.S. in CS, 2016 Fall
Ruidong Guo, M.S. in CS, 2014 Spring
Thomas Harris, M.S. in CS, 2014 Spring
Glen J. Hordemann, M.S. in CS, 2013 Fall
Andries Smith, M.S. in CS, 2013 Summer
Yilin "Victor" Gu, M.S. in CS, 2013 Spring
Xiaosong Zou, M.S. in CS, 2013 Spring
Nicholas White, M.S. in CS, 2012 Spring
Hao "Felix" Hu, M.S. in CS, 2012 Spring
Ronald Ngatuni, M.S. in CS, 2011 Summer
Stephen J. Durfey, M.S. in CS, 2011 Spring
Zachary David Taylor, M.S. in CS, 2011 Spring
Yuanhua Liu, M.S. in CS, 2010 Spring
Woon Khang Tang, M.S. in CS, 2010 Fall
Mark Randles, M.S. in CS, 2010 Summer
Undergraduate Students
Carl Gruhn, 2020 Fall
Matt Collins, 2020 Fall
Fiona Warner, 2020 Spring, Summer
Gangotri Patel, 2018 Spring
Benjamin Thornton, 2018 Spring
Jeremy Storer, 2013 SetGo
Jakub Grzymala, 2013 SetGo
Current Service Roles
BGSU CS Department: Chair
A&S BGSU: Memeber of Korean Student Association Advisory Board
Vice President of NWO ACM-W Professional Chapter
Past Service Roles
Department

Faculty Mentor (2009-2012)
Undergraduate Coordinator (2014-2018)
Internship Coordinator (2014-2018, Fall 2020)
Member of Undergraduate Committee (2011-2014)
Member of Graduate Committee (2011-2014)
Member of Continuous Improvement Committee (2015-2016)
Member of Executive Committee (2015-2018)
Chair of Search Committee (2012, 2013)
Member of Search Committee (2018)
and many other ad-hoc committees
College

A&S Council Member-Rep. Council of Chairs (2020-2022)
A&S Chair Steering Committee (2020-2022)
A&S College Committee on Budget (2019-2021)
A&S Diversity Committee (2014-2018)
A&S Faculty Mentoring Program- Mentor (2020, 2021)
University

Undergraduate Council (2016-2019, 2021-2022)
MS&PhD in Data Science Program Development Committee (2016-208)
MSA Program Committee (2018-2021)
Asian Studies Advisory Member (2017-2023)
Korean Club Faculty Advisor (2017-2019)
Faculty Senate (2010-2016)
and other ad-hoc (review, search) committees
Professional

NWO ACM-W Professional Chapter Member
The State Committee on Computer Science, Ohio Department of Higher Education
CS/IT Faculty Panel for Ohio Guaranteed Transfer Pathways, Ohio Department of Higher Education
CS/IT/IS Transfer Assurance Guide (TAG) Learning Outcome Review, Ohio Department of Higher Education
Waite High School IT Program Advisory Board Member
NSF Panel Reviews (3 times)
Tenure and Promotion Reviews (for other institutions, 2 times)
Conference Program Committees
Many Conference/Journal Manuscript Reviews